We work in the Service Provider business at VMware and are often fielding questions as to what's going on in the marketplace both from a commercial and technical perspective.  In response to these frequently discussed topics, we decided to share with you our personal views and to hopefully further an open dialogue as to the direction the market is taking and how Service Providers overcome the challenges they face.
In this blog, we give you some insight as to the origin of many of the issues Service Providers face today, in subsequent blogs we will expand on some of the points raised.  We hope you enjoy the blog and thank you for reading.
In recent years, we have heard new phrases used by vendors, analysts and technology evangelists such as "The Always On culture, Digital Transformation, Digital Strategies" etc.  However, when you strip it back, the common denominator is the End User, basically, you and me.  Since the advent of PC's in the 70's & 80's and online marketplaces like iTunes, eBay and Amazon creating new business models, customer expectations of the user experience has become ever more demanding.  New application delivery mechanisms have had to be created for an ever expanding list of diverse end user devices, networks have had to scale and deliver increasingly higher bandwidth.  This has also had the impact of moving IT ever closer to the end user.  Consider email, believe it or not, there was a time before email, but now pretty much everyone has at least one email account, often more.  Now imagine the email system not working and the impact on your business and personal life, or even worse imagine losing your smartphone!  Zikes!
This has meant that traditional business and consumer applications have had to be reformatted or replacements created entirely from scratch to be able to be delivered online to a range of devices.  This is all driven by market forces, again you and me.  In turn, this has applied significant pressures on the traditional enterprise IT departments in supporting their organisations in meeting the end user demand and business expectations.  These challenges are exacerbated by IT having had to manage ever shrinking budgets, possibly dwindling specialist skills, the requirement of new skills and tools, the list goes on.  Therefore, enterprises have had to find ways to overcome the challenges presented by this increasing demand and consequently the attraction of passing the problem to someone else to manage has become highly attractive, particularly if that other entity can save you money in the process.  Hence the Service Provider market.
Obviously, not all enterprises have adopted an outsourced model, and many have instead developed their Cloud capability whether it be private, Hyper-Scale Cloud or a combination.  In line with keeping up with user expectations enterprises have had to develop ways of creating services with not only a consistent user experience but also at an almost speed of light delivery.  Gone are the days when users will be satisfied with pushing a button and receiving a response in anything less than a few milliseconds.  How many times have you tried to view a video via social media and just moved on when it doesn't play within a few seconds?
Many enterprises have looked to solve these issues by adopting a software stack that not only provisions an environment in record speed but also manages the network, compute and storage components with a vastly reduced number of element managers and therefore deliver a far more consistent quality of service in a shorter timescale.
This has, therefore, meant that when bidding for business, the Service Providers have had to have capabilities that either match the current capability of the enterprise or more likely exceed those capabilities.  The reality is that in the past Service Providers have been able to get away with offering little more than a multi-tenanted infrastructure at a competitive cost and that has been sufficient to convince Enterprises to make a move from hosting their workloads on premise to moving those workloads onto a shared platform in the Service Provider's Data Centre, where the management of connectivity and the infrastructure is handled by the Service Provider, but very little else in terms of the overall value-add technology services that businesses operate to generate revenue.
The Service Providers of today can no longer afford to have such a limited approach and certainly not based on an operational model where on boarding and day two operational processes rely on manual configuration and intervention. The days of taking from weeks to months to deploy or update basic virtual machine provisioning services are no longer acceptable in a Hyper-Scale Cloud world where a credit card and a few buttons clicked by the end customer can have a range of sophisticated services deployed in minutes.  Ironically now, due to the scale of workloads under management, many Service Providers are facing the same issues that their customers have traditionally faced.  I.e. how to leverage efficacy at the network, compute and storage layers and provide a consistent quality of service in a timely fashion, with minimal manual intervention.  If this wasn't enough, the demand for value from the enterprise has if anything, increased with the advent of the Hyper-Scale Cloud pricing models.  Therefore, Service Providers have to evaluate where their value is derived from, is it hosting, managed hosting, private dedicated cloud, multi-cloud management or something else?
The Managed Services Value Chain;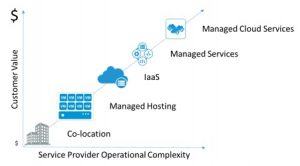 Among the more progressive Service Providers, a new approach is emerging. For these Service Providers the delivery of a virtualized physical infrastructure is no longer seen to be a key component of their offering and is  instead regarded as a burden on their balance sheet, leading them to focus their efforts on developing multi-cloud management capabilities with a view to becoming a Cloud Services Broker, offering a single SLA for their Enterprise customers across multiple Cloud endpoints, where the choice of those endpoints reflects the optimum cost and service characteristics for each part of that customer's service.  For a Service Provider to be able to offer the services and capabilities of a Cloud Broker, they will need to transform radically in the way in which they architect, cost, deliver and manage services. Gone are the days where a customer's bespoke IT environment could be adopted in its entirety by the Service Provider and managed on a bespoke basis.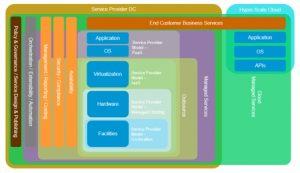 Successful Service Providers in the emerging Cloud Broker segment have several characteristics in common:
Firstly, they have existing experience, skills and toolsets for managing workloads in a variety of Clouds private or public.
Secondly, Cloud Brokers offer good connectivity into the Hyper-Scale Clouds and can often offset or minimise the impact to their customers of the Hyper-Scale Cloud bandwidth costs.
Thirdly Cloud Brokers typically have developed or acquired an overarching orchestration framework that allows them to tie together the assessment, provisioning, management and day 2 operations of deployed services across multiple platforms.
Fourthly, visibility into monitoring and alerting and SLA adherence is an area where Cloud Brokers may leverage individual platform-specific element manager to access pertinent data but then in tandem leverage the APIs from those individual solutions to allow the Cloud Broker to aggregate information up into a common service status view across multiple endpoints, avoiding a new set of technology sales from emerging in how they run their services and ensuring those supporting the end customer have a view of the entire environment from a single pane of glass.
Finally, most Cloud Brokers are deploying a sophisticated set of networking and security technologies to enable them to on-board customers into any one of the supported technology endpoints and then facilitate the communication between distributed applications and services while preserving the desired levels of security and compliance.
This last attribute is challenging to deliver as it requires a good understanding of the various technologies and architectures deployed by the Hyper-Scale Clouds from networking and security perspective as well as a means of facilitating communication and in some cases mobility between the different technology endpoints without compromising security.
VMware's overarching vision, one Cloud, any application, any device aligns very well with this emerging Service Provider segment of Cloud broking. To offer Cloud broking services successfully, Service Providers need visibility into a variety of Cloud Endpoints and ability to manage and operationalize the customer workloads and services deployed there. VMware has begun to iterate a technology approach that it has termed the Cross Cloud Architecture, which will deliver over time a comprehensive management, orchestration, costing and security platform which could enable Service Providers to offer Cloud Broking services to their end customers across multiple Cloud endpoints.
[easy-tweet tweet="VMware is committed to helping its Service Provider ecosystem prepare for the next generation" hashtags="Service,VMware"]
Some of these capabilities exist today in solutions such as VMware's vRealize Suite from an Enterprise, on premise, perspective for customers looking to leverage multiple Clouds and from a Service Provider perspective with VMware's vRealize Automation, Operations and Business for Cloud which are deployed by the Service Provider from their data centres. As a growing number of the Cross Cloud services become available via a VMware hosted SaaS model, the ability of Service Providers of all sizes and maturity to offer a range of compelling Cloud Broking services will continue to expand. VMware is committed to helping its Service Provider ecosystem prepare for the next generation of service offerings by enabling its Partners to offer a variety of sophisticated services across multiple public and Hyper-Scale Cloud Endpoints
So, what does this mean?  It means you need to decide who and what you are and future proof your offering.  No-one has a crystal ball, but there are clear indicators as to what our customers are going to need moving forward.  You will need to have an answer to the multi-Cloud environment, particularly when it comes to Hyper-Scale Clouds irrespective if you decide you are an IaaS provider or Cloud Service Broker.  The demands from customers will continue to gather pace and agility will be key.  Many enterprise customers view on the competition has radically changed from knowing who the competition is and forming value propositions to address the challenge to now worrying about competitors with new business models that they cannot see coming.  As a key enabler to the enterprise, you will need to be able to provide the underpinning services that will enable the enterprise to address these challenges.  In our next blog, we will discuss how VMware is helping Service Providers develop strategies to address these issues.