With businesses facing concerns from rising cyber security threats, increasing global supply chain issues and the impact of geopolitical instability, having cloud technology in a company's IT arsenal is key to optimising their use of data and remaining both competitive and agile in a changing world.
The investment into cloud infrastructure has come largely from the small and medium-sized businesses, as they look to get support with workload migration, data storage services, and cloud-native application development. When it comes to making use of real-time data in business, it's becoming ever clearer that the cloud is a must-have.
Recent research backs this up, with IT decision makers (ITDM) and business decision makers (BDM) confirming that cloud adoption is on the up — and it's moving fast. More than half (54%) of respondents stated they were using the cloud either at an intermediate or advanced level.
This is hardly surprising. After the pandemic forced millions to pivot working from home almost overnight, the tech that was rushed in to help support that flexibility was always going to remain around afterwards — particularly as many workplaces now face hybrid and home working as a permanent fixture. However, what will be interesting is seeing how businesses continue to build on this kick start and move forward with maturity in the next year to 18 months.
More storage please
With more data to hand, comes the need for greater storage. While many organisations have moved key files, applications and data into the cloud, the next step is to find the storage for all the new data they acquire following to the move.
The survey found that cloud-based data warehouses, data lakes and lake houses played a prominent role in 2021 for exactly this reason, with respondents citing these as a top initiative (48%) as well as one of their top use cases (57%). These modern data management approaches offer businesses a way of seamlessly accommodating legacy systems so they can work alongside newer, more sophisticated cloud-based systems.
That's good news, considering the popularity of a hybrid approach continues to rise as organisations are either unwilling or unable to give up their legacy systems entirely. From those surveyed, there were nearly double (37.5%) the number of ITDMs and BDMs choosing hybrid over pure public cloud (20%), showing a widening disparity between the two deployments, despite the increased cloud footprint.
Furthermore, almost all organisations (93%) said they were either using, evaluating, or considering leveraging cloud-based data integration, management, and analytics — including powerful technologies like data virtualisation and logical data fabric. This allows for a more fluid "instant access" experience across on-premises and cloud systems. This comes with a number of benefits, including regulatory compliance, scalability and greater agility, thanks to real-time application use improving employee productivity.
Data is complex
But what are the main issues that stand in the way of businesses looking to become a wholly "data-driven" organisation? Those surveyed listed the complexity of data integration, accessibility and accommodating different data formats as the biggest difficulty (79%), with a lack of resources to turn raw data into insights come in a the second (62%).
Other key challenges identified were difficulties with accessing and analysing data, with 44% only able to access half or more and 17% only able to leverage three-quarters or more.
This is going to be one of the biggest roadblocks to businesses getting to a position where they can make key decisions based on data. In order to harness the full potential of cloud migration, organisations need to ensure they have the right people on board to be able to manage and use the data they have access to.
The importance of this has not been overlooked. While the role of IT in the cloud modernisation journey a year or more ago was more focused on the choosing of a provider and the migration itself, now the focus is having the skills required for making the most of cloud systems in place. Almost a third of respondents (31.3%) said their IT teams are now more focused on receiving the training they need to take their cloud capabilities to the next level.
Looking to the future
Reporting and dashboards, self-service BI and ad-hoc analytics remain important priorities, but in the future, data virtualisation, data preparation, data quality and blending should become more prominent as the cloud becomes a seamless part of an organisation's IT structure.
Despite companies being at different stages in their journey to the cloud, what's clear is that no one is standing still. Companies are looking to the future, looking to prepare for what's next, and wanting to maximise the data and cloud systems they have with strong cloud-based repositories. The cloud is here to stay, and the companies that invest in making the most of it will reap the benefits at every turn.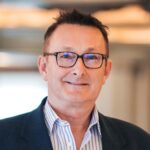 Charles Southwood is Regional VP for Denodo Technologies, responsible for the company's business revenues in Northern Europe and South Africa. Born and raised in Ascot, Berkshire with a degree in engineering, from Imperial College, London, Charles has over 20 years in technology sales and sales leadership where he has been involved in both start-up ventures, and the expansion of existing businesses.