Due to the increase in worldwide 5G deployment— across more than 2,000 cities in over 70 countries as of April 2022 — global connectivity has transformed and has subsequently impacted how enterprises manage their business operations. Over the coming years, 5G is expected to reach one billion new users, making it the most rapidly adopted mobile data transmission technology when compared to all previous generations. 
While the increased services that 5G enables will boost revenue for communication service providers (CSPs), it's not all smooth sailing for them, as 5G's shift to a cloud-native architecture has introduced significant complexity. Kubernetes architecture, mandatory encryption, 5G standalone (SA), edge computing, and network slicing are just some of the new challenges. If providers do not design in observability – which measures end-to-end performance from the application to the network level –from the beginning, new services will take off slower than anticipated, and the customer experience cannot be guaranteed. Observability solutions must seamlessly provide continuity between existing 4G and new 5G networks – in other words, visibility without borders.
5G technologies and the shift to the cloud
It is clear that 2022 brought major improvements to realising 5G's potential, with actual and quantifiable results. However, this is not the only driver behind the transition to cloud-native architectures, as they also offer several benefits that would otherwise be unavailable. 
For example, the cloud makes it easier to evolve network capabilities and with a higher degree of flexibility. The cloud simplifies updating the network repository function (NRF) responsible for maintaining an updated repository of all 5G network elements and the services they provide. If an operator wishes to roll out new features, the only requirement, with a cloud-native foundation, is an easy software upgrade. This significantly reduces the impact on service during upgrades. Generally, a cloud architecture directs network resources to where and when needed, thereby 'right-sizing' operations.
This flexibility is particularly important when considering two aspects that are unique to 5G. First of all, the telecom industry is shifting from a 'horizontal' to a 'vertical' model, and a crucial feature of this move is the implementation of network slicing. This enables multiple independent and virtualised logical networks while using the same network infrastructure. 5G network slicing requires a cloud architecture to ensure critical management and general operations. Each network slice is isolated within an end-to-end network that is designed to meet a series of requirements made by a specific application.
Secondly, the use cases for 5G are far more critical than those of previous generations —and not just from a business perspective. With 5G, peoples' lives could depend on service reliability. For example, ultra-reliable low-latency communications (URLLC), is a 5G service for mission-critical, ultra-latency-sensitive services. URLLC enables new applications such as virtual reality, autonomous driving, remote surgery and more. With URLLC, CSPs must be able to guarantee that these operations and services can operate without downtime. Being able to quickly detect and implement fixes for network issues is therefore paramount and further demonstrates the importance of observability.
With the move to the cloud for 5G taking place at the 'core' and 'network edge', an open and interoperable framework will be essential for assuring a flawless end-user experience, and once again, it is only possible through the cloud.
How companies can deliver a better customer experience
A focus area for some organisations looking to improve their business operations is how the cloud can accelerate the artificial intelligence (AI) revolution within the 5G ecosystem. Achieving this requires a more sophisticated level of automation. Without it, the next generation of networks will not be able to operate correctly – affecting everything from cybersecurity protection to IT troubleshooting. Through the use of faster and better cloud-based AI tools and automation, these elements can help organisations understand the initial cause of problems and prevent them from escalating further.
The complexity of the 5G network and the broad range of partners in the ecosystem is unlike former wireless generations and therefore necessitates advanced, AI-powered automation. Without that assistance, customers are more likely to have a negative experience. Additionally, with the current staff shortages affecting organisations worldwide, and long wait times for newly available data scientists, network automation can ease the workload for overwhelmed teams while giving them time to focus on the most mission-critical issues.
Ultimately, improving customer service can only be achieved if businesses can measure it – you can't guarantee what you can't measure. Service providers that build in observability from day one can measure and know what kind of customer experience they are delivering and analyse what is or isn't working, and why.
Observability and security
While there are, of course, many benefits to 5G when it comes to improving business operations, the added complexity and barriers that it brings, means that observability is no longer a 'nice to have'. It is now essential for ensuring and securing mission-critical business operations – especially given the increased use cases where lives could be at risk. Furthermore, in contrast to the centralised design of 4G, 5G's disaggregated architecture means the threat landscape has expanded and diffused, which makes things more challenging. As such, observability and security solutions have become 'must haves' when it comes to addressing the barriers introduced by 5G.
The good news is that observability is now possible in a cloud-native 5G standalone environment, and it can work regardless of the vendor, so interoperability can be maintained. However, given the way in which 5G fosters a more innovative and competitive business landscape with multiple vendors, enterprises must ensure that they are working with an independent security and observability provider that is vendor agnostic to effectively secure and assure the infrastructure.
Both cloud-based networks and modern cyber threats are increasing in sophistication, and this shows no sign of slowing down. This means that organisations must continuously look out for new attack methods or trends, as well as new measures to circumvent them. To improve business continuity, every second counts in the race to resolve network performance issues that may hinder business operations or the online experience for customers. Visibility without borders allows organisations to take charge of their cybersecurity position and transform their digital operations for years to come.
Overall, the ongoing rollout of 5G is giving rise to a whole host of new enterprise business applications and services which opens doors for CSPs to reach new vertical industries and boost revenue. However, the mission-critical services that 5G enables adds serious pressure on CSPs to guarantee that those services can operate without downtime. The only way to achieve this is by measuring the end-to-end performance by building in observability from the onset.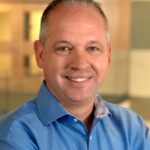 As senior vice president and chief technology officer for NETSCOUT, Bruce Kelley works closely with every facet of the organisation, interfacing with all departments from sales to product management to engineering. He plays a lead role in setting the priorities and direction around product and service developments in the service provider business.  Highly regarded in the technology space as a 5G, IoT, edge cloud and automation visionary and expert, Bruce regularly consults with service providers to identify challenges related to network monitoring in order to achieve service and security assurance. He is a staunch advocate of the importance of delivering end-to-end visibility across today's increasingly complex data centre architectures. Bruce uses knowledge gleaned over decades to guide how current and next-generation technologies will impact operations and delivery of services across the service provider space. He is the holder of more than 40 patents for technology-related innovations.