For many years, on-premises CMMS solutions have been the mainstay of operational teams, but hard-pressed IT teams with tight budgets and scarce resources may be struggling to continually justify the expenditure or have the skills in-house to build and support the necessary IT infrastructure. 
The same pressures are also on the operational teams managing the facility and maintenance operations day-to-day.
To help manage increasing operational costs and external economic pressures, many companies are gradually migrating their applications and workloads from on-premise to cloud, relocating servers from their office facilities to dedicated racks in co-location data centres or fully into the cloud using services such as Microsoft Azure or Amazon Web Sevices.
On-Prem or Cloud – what's involved?
On-premises and cloud-based CMMS solutions are generally the same applications or technologies but delivered in different ways. On-prem CMMS is the more familiar and traditional model, where a company purchases the hardware and software upfront and then installs and configures it on-site. Dedicated IT teams are then responsible for managing the whole solution throughout its lifecycle – installing patches, upgrades and integrations.
Cloud-based CMMS solutions use a Software as a Service (SaaS) model as a fully managed resource, which makes it popular with smaller companies that don't have large budgets or the necessary internal expertise to set up and manage the technology in-house.
But that doesn't mean that cloud-based solutions are just suitable for small companies, many larger companies choose cloud software because it's easy to scale and an OPEX-only expense.
Large organisations also often have the available resources in-house to manage on-prem software but still choose a cloud solution to leverage the benefits of a cloud service, instead choosing to expand their offerings for scalability and OPEX-only expenses.
Which is right for you?
To decide which approach is right for your company, it's helpful to compare the benefits of on-prem CMMS versus cloud CMMS software. But before you make any side-by-side comparison, you'll need to decide which features you'll need. Certain features can only be delivered using cloud-based technologies, so creating a checklist could prove key to your decision-making process. For example, have seen with Microsoft Office 365 that sometimes it is better to deliver new and enhanced services only from the cloud – such as Permit To Work, Risk Assessments and BI Connectors.
Ultimately you have to calculate the total cost of ownership of each solution, so here are 10 things to consider in your calculations:
Security – Wrapping a secure infrastructure around your CMMS/CAFM is necessary to mitigate risks and ensure data privacy and alignment with GDPR. Looking closely at firewalls and anti-virus and keeping these elements patched and current will be a significant resource overhead for an on-premises system. In contrast, all of this can be built into a cloud SaaS model.
The Data Centre Environment – Dedicating rack space, power, environmental aspects and resources to put a resilient and robust server infrastructure in place will mean looking at where your data centres should be located. You need to also consider the cost of internetworking between those sites and the resources needed to manage and monitor those environments. None of this applies to a cloud-based system, meaning you can scale your solution quickly and affordably should your business needs change.
Operational Management – Operational management often impacts overheads the most. Your on-premises TCO should allow for the manual workload involved in patching, scaling, upgrading, monitoring, security auditing, backup and general housekeeping. Although cloud-based CMMS/CAFM software will liberate you from many time-consuming operational tasks, you'll still need to account for some lifecycle administration – for example, user account and permission management.
Software – In addition to your CMMS/CAFM application, you'll also need the software to access the functionality of your solution. This may require separate licenses for each user, which incurs additional costs, plus you'll need staff with technical expertise to deploy it.
Setup – Setting up on-premises servers is no easy feat; it requires significant people power to procure, configure and deploy servers to a production environment. In addition, the process can take days – possibly weeks if you include time waiting for components to arrive – adding significant overheads to operational team members. With a SaaS-based CMMS/CAFM, you can be up and running in a matter of minutes. Not only does this drastically reduce labour costs, but it also increases your business agility, helping to improve your bottom line through lower project costs and faster times to market.
Payment Models – Based on the CAPEX model, an on-premises server and related CMMS purchase can range from around a few thousand to many thousands of pounds/dollars, depending on the level of functionality and security you require. By contrast, the OPEX approach of a cloud-based service provides a more manageable way to finance your CMMS/CAFM needs. However, be aware that these payment models also require different approaches to calculating TCO in terms of the cost of capital versus ongoing commitments.
Application Integration – Connecting in-house systems with any CMMS/CAFM may prove time-consuming and challenging. A good vendor will provide simple APIs and clear documentation on integrating its product with common applications. A SaaS-based system offers out-of-box API interoperability with a wide range of services. However, you should still consider the integration or migration aspects of your environment with both your operations and IT teams.
Compliance – Compliance is essential to meet key legislative requirements, especially in highly regulated sectors such as healthcare, food and drink manufacturing, pharmaceutical, utilities and local government. Ensuring on-prem solutions comply with privacy/security standards such as GDPR and ISO27001 can be a complex, lengthy undertaking requiring regulatory knowledge. However, most of this work is automatically covered when you use a cloud-based service, helping to reduce your TCO.
Service Levels – Most companies will look for high levels of availability to optimise production up-time from their architecture. In addition to the hardware costs of building a resilient and highly available on-premises solution, you'll need to invest in people and tools to maintain service levels.
Technical Knowledge & Training – Managing an on-premises CMMS/CAFM requires considerable technical expertise, therefore it's vital to include the cost of upskilling existing staff or potential recruitment in your TCO evaluation. A cloud-based solution requires far less technical know-how, as most of the work is outsourced to your vendor partner and as part of a SaaS service, you should be able to access priority support.
The list could (and does) go on to include other costs such as CMMS/ CAFM licenses, client and operating system licences to integrate with your solution and any ongoing support licences.
Remember that with either option there will be one-off set-up costs – whether that's physical hardware or software licences. Then you'll need to factor in set-up work such as design and planning of the installation, configuration, testing, handover and staff training.
To complete your total cost of ownership calculation, you'll need to combine the one-off and annual costs, plus administration and management costs into a single figure.
90% of companies are using the cloud
As more companies carry out a TCO assessment, we see both small and large enterprises recognise the value of cloud-based asset maintenance solutions. Over 90% of companies are already using the cloud in some shape or form, and cloud computing is now the second most talked-about technology area in business. This has led to the emergence of a new type of CMMS solution based on the on-demand delivery model of the cloud.
The ongoing cost of employing IT capabilities makes managed service options more attractive, as considerable skills and resources are required to implement and maintain on-prem solutions.
Many companies can also see significant benefits in cloud-based services, which are quick to set up and make it easy to manage projects or sandbox environments. Most importantly, companies using cloud software find their solutions return much higher value than those using on-premises solutions.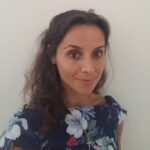 Luciana Kola, Marketing Manager, international software specialist, Elecosoft.
Luciana Kola is an experienced international management and communications professional,
with experience spanning marketing management, brand strategy, planning and marketing
strategy across various sectors, including building, utilities and manufacturing.
Luciana is currently Marketing Manager at international software specialist, Elecosoft, where
she has planned and is leading the delivery of Elecosoft's national marketing strategy.
Holding a masters degree from the University of Derby in Marketing Management, Luciana is
focused on business transformation and growth, with a proven track record across several
industries in various roles from start-up, to M&A.