Business leaders are increasingly under pressure. They're feeling the ever-growing need to adapt to changing market conditions, to adjust to changing regulations, and to understand and utilise powerful new technologies, all while facing continuing pressure to perform in the market.
This has an effect on their decision-making, particularly when it comes to technology. It can cast doubt on whether investments are being made in the right places, what technologies should be part of the stack, and how to keep pace with competitors. With these doubts and pressures, it becomes difficult to account for the next quarter, let alone the next year.
And with the lack of foresight comes the uncertainty, the fear of the unknown. What some have called 'tech anxiety' – the feelings senior leaders experience as the exponential pace of technology continuously challenges the way businesses operate.
But when looking to conquer these fears and anxieties, understanding the process of digital transformation is the key to unlocking huge potential.
Bringing clarity through understanding
At its root, tech anxiety is the fear that resources are being misspent, that the business is travelling in the wrong direction, rapidly accumulating technical debt, and there isn't a turn-off anywhere in the near future.
Digital transformation looks different for each organisation. Recently, Kin + Carta surveyed over 800 business leaders in the UK and US on this topic for its "2024 Leadership Priorities in Tech" report. Three key themes emerged that are set to define digital transformation in 2024:
Transformation of processes, practices, and culture
The survey emphasised the need to leverage digital technologies for business transformation, with respondents covering key operational factors such as processes, culture and organisational structures. This entails embracing digital operations and automation and integrating technology across the organisation to drive continuous progress.
It found that, for example, 45% of leaders relate digital transformation to cloud modernisation, while 43% of businesses say digital transformation centres on automating internal processes.
Evaluating technology impact and adoption strategies
Second was the need to assess the effects of emerging technologies, evaluate potential risks and opportunities, and align them with organisational objectives. This involves making informed decisions, setting adoption strategies and selecting appropriate technologies. It's a matter of balancing current needs with future innovation.
AI and machine learning are good examples of emerging technologies that have the potential to cause major impacts and generate anxiety. Around a third (35%) of leaders who said AI and machine learning was a source of anxiety, attributed this fear to the speed at which the technology is evolving.
Deriving benefits and competitive advantage
As expected given the current economic environment, participant organisations focused on the value they'd derive from digital transformation and new technologies.
They highlighted the potential for improved business processes, enhanced customer experiences, and increased productivity and growth, leading to a competitive edge in the market.
The study identified that nearly half (49%) of businesses use digital transformation to describe efforts to improve customer experience – focusing on tailored marketing, personalised experiences and customer data to create satisfaction, loyalty and business growth.
The importance of investment
Digital transformation requires significant resources and investment to be successful.
81% of business leaders surveyed believe investment in digital transformation to be either critical or necessary for business success. However, concerns about return on investment from digital initiatives remain common. The research further revealed that economic uncertainty has impacted the majority of organisations' short-term (84%) and long-term (81%) transformation roadmaps.
Yet despite this uncertainty, leaders are showing resilience. Three-quarters (75%) believe investment is necessary within the next 12 months and the majority (58%) plan to spend more on digital transformation initiatives this year compared to the previous year.
Overcoming your tech anxieties
Despite their anxieties, leaders can still ensure they can overcome obstacles and make changes that deliver real value for their organisations, colleagues, and customers.
First, think bigger. Challenge your teams and yourself to drive differentiation. Connect end-user value propositions that drive customer lifetime value and lower acquisition cost (via increased NPS) with data-driven intelligent experiences.
Next, focus on parallel priorities. Put high-priority investment areas first. AI and machine learning, cyber security and customer experience are all both high-anxiety areas and top investment priorities. Multiple simultaneous initiatives can ensure you succeed when unexpected challenges arise and that learnings are shared across programmes.
Finally, plan for future needs. Leaders often avoid challenges that fall into the high-anxiety and low-investment space, such as sustainability strategy, customer retention and marketing performance, out of fear of the unknown. But often these become hot-button issues inside
the C-suite, quickly rising up priority lists and catching leaders unprepared.
Scoping targeted initiatives for these areas now will build perspectives and skills in anticipation of future investment and prioritisation.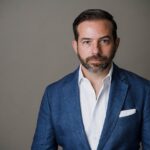 Richard is Global Chief Strategy Officer at Kin + Carta, the global digital transformation consultancy headquartered out of Chicago, London and Edinburgh.
With 2,000 consultants, engineers and data scientists around the world, Kin + Carta brings the connective power of technology, data and experience to the world's most influential companies, helping them to accelerate their digital roadmap, rapidly innovate, modernise their systems, and enable their teams and optimise for continued growth.
In a career spanning 20 years, Richard has been at the forefront of digital innovation and creative technology for some of the world's most recognisable brands, including Volkswagen, Nationwide, Guinness, Budweiser, Sony, Coca-Cola, EE, Investec, the English Football League and BMW.
Previously, Richard was Managing Director of Dare - named Digital Agency of the Decade by leading trade magazine, Campaign, as well as being listed as a Fast Company World's most innovative companies. Prior to Kin + Carta, Richard worked at Tribal DDB and Red Urban.
Outside of work, Richard is a keen rugby player, playing for the English Advertising Rugby Association Club and coaching a kids club, and sailor.