Startups and small businesses focus on cost efficiency as it dictates how soon they can reach breakeven. In any enterprise, data is the bloodstream. Efficient data utilisation can improve efficiency and contribute to productivity. Similarly, data loss means a significant hindrance, especially for startups. Even small businesses cannot tolerate data loss, specifically mission-critical data. This is why it is of the utmost importance for startups and small businesses to employ cloud backup solutions.
It is assumed that large enterprises need cloud-based solutions while Small to Mid-size Businesses (SMBs) don't have to invest in it immediately. This is a costly assumption that can bite you in the back.
Verily, there are other backup options that SMBs can employ for effective backup strategies. However, an effective disaster recovery plan is incomplete without the cloud.
Backup & Storage Options for Small Businesses & Startups
The first thing that needs to be thrown out the window is tape storages (like USBs, Internal and External Hard drives). The reason for that is simply because it's expensive and unreliable. If you compare the cost of backup appliances versus tape storage, you will see a drastic difference. Would you choose to back up your mission critical data on a flash drive? If so, what if the drive becomes corrupt? That means all of that data goes in an instant. Can a small business or a startup endure such data loss? That's why let's leave our tape storage outside the premises and keep them there.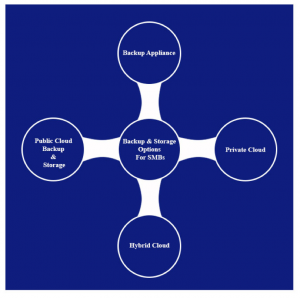 Storage Appliance: Effective File Sharing & Storage
Data storage requirements immensely govern the chosen storage solution. For most SMBs, the best answer is not storage on the cloud, but rather Network Attached Storage (NAS). If they only have file hosting and sharing requirements, then this is the best solution. That's because data hosting and access over a local network is faster than enterprise cloud storage.
This is the reason why even large enterprises, utilise local infrastructure to move data efficiently within a particular office while using cloud storages to move it efficiently and safely between regionally separate offices.
With the utilisation of a storage appliance, these SMBs can ensure agile data flow and use cloud connect services to create archives in the cloud. That way, they can have the best of both worlds.
Public Cloud Backup & Storage
Besides the acquisition of enterprise backup appliances, SMBs can also procure backup solutions directly via virtual infrastructure. To do this, they have to ensure that their Ethernet connection is reliable enough to facilitate scheduled backups and can be counted on if a situation arises where recovery is required. Any disruption in the Ethernet connection can translate to downtime or data loss; neither is acceptable for any enterprise.
Several mainstream public clouds can provide storage: Amazon, Google, Microsoft etc. You can create copies of your files on these storages and share them using links. The critical thing to understand here is that cloud storage is vastly different from backup in the cloud. Cloud storage solutions are ideal for sharing and working in a parallel manner within a team, increasing work efficiency and overall productivity. However, storage solutions are not reliable for backups. You need to acquire backup solutions to create backup copies of your sensitive data.
[clickToTweet tweet="Public #clouds are providing diverse solutions for #backup. #disasterRecovery" quote="Public clouds are providing diverse solutions for backup."]
Public clouds are providing diverse solutions for backup. You can backup your data cost-efficiently as long as you analyse it and use the appropriate storage tiers. For instance, if you move your archival data to Amazon Glacier; it promises to be cost-effective in comparison to high access frequency storage tiers like AWS Standard S3 or Azure Hot Blob Storage.
While using public clouds, it needs to be stated that enterprises need to focus on security protocols. Recently, several large enterprises classified their sensitive data on publicly accessible folders. This led to costly data leaks, damage to the brand name and loss of clientele. All of which could have been avoided by the efficient utilisation of security options already available in public clouds.
Private Cloud Solutions
Large enterprises utilise this solution due to the closed nature of their data. For instance, the metropolitan police department would be better off using a private cloud as compared to a public cloud due to various CJIS regulations.
Unlike public clouds, there's a lot of privacy for the data that you have stored. You can control access to your data effectively and ensure that it remains within reach of the users of your choosing. You can utilise a backup infrastructure to deploy your private cloud, or you can acquire the services of a private cloud service provider and use the infrastructure in their data centre to implement it.
Hybrid Cloud Solutions
The hybrid cloud solution is an exciting mix of many things. Hybrid solutions tap into various options: backup infrastructure, public clouds and private clouds. For instance, an SMB acquires a NAS appliance with cloud connect services. This SMB can configure the device to backup and share their data over a network, then also make copies of this data on a public cloud. By using more than one appliance, they can also tap into private clouds or multiple public clouds and acquire beneficial services from all of them. This makes Hybrid cloud solutions a very flexible and highly recommended solution for SMBs.