Another year at the prestigious IBM Edge conference and what's new? Well, quite a bit actually.
Cloud with z Systems – IBM's latest solutions create customer experiences through mobile and analytics, deliver agility and efficiency through the cloud, and ensure always-on service and data protection.
[easy-tweet tweet="IBM Solutions create customer experiences through mobile and analytics" hashtags="cloud, tech, IBM"]
Ubuntu OpenStack on IBM Systems: IBM and Canonical have a long and innovative alliance and announced the availability of Canonical's Ubuntu OS, Ubuntu OpenStack and tooling on  LinuxONE, as well as IBM z Systems. Ubuntu OpenStack is the most widely used private cloud platform among enterprises and service providers with over 55% of production OpenStack clouds, more than all other vendor solutions combined.
Enterprise open innovation – Solutions that take advantage of hybrid cloud scalability, blockchain, high-performance data analytics coupled with open source development, LinuxONE
Enabling cognitive IT with storage and software defined solutions – solutions around the workload and data-aware infrastructure needed to efficiently capture, deliver, manage and protect data with superior performance and economics with a link into the cognitive.
Architecting the future of cognitive business – from designing, building and delivering IT infrastructure – current and future visionaries share and educate with their understanding of tech world – from the young to the old(er)
As there is an awful lot of information to cover here, even within each topic, I'll focus on a couple and leave the link at the bottom of this article for you to watch the replays at your leisure.
A Secure Blockchain: IBM LinuxONE
I am continually amazed at IBM with their ability to present solutions way ahead of the rest of the large tech vendors. I know that this is a very bold statement to make, especially from me but I can back this up with one particular presentation theme – The Blockchain! Having a very solid grounding and understanding of this particular technology I am ideally placed to comment and I must say two things. IBM has a skill for finding great talent (companies that compliment their technology) and demonstrating the partnership in such a way that the audience simply put, just get it!
Additionally, they have some of the smartest engineering divisions that constantly research, develop and push the boundaries of their technology – Enter the Blockchain on their LinuxOne platform!
[easy-tweet tweet="IBM have some of the smartest engineering divisions that constantly research" hashtags="IBM, tech, cloud"]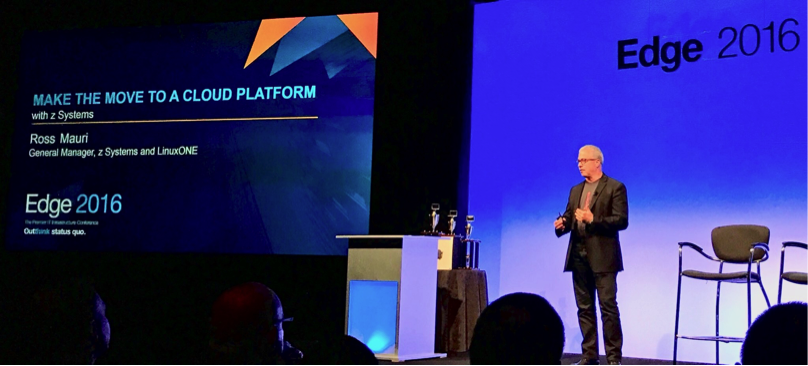 Ross Mauri, GM IBM z Systems, and LinuxONE, presented a great keynote that left us pondering on the sheer size of Cloud and the Internet of things.
"In the region of 20, 50 and even 100 transactions have been seen on backend systems from one click of a mobile device. When architecting for the future we need to look at the growth of data this generates from 6x the current growth in mobile data by 2020 to over 20 billion IoT connected devices by 2020 too – this will drive massive growth in for analytics," noted Mr. Mauri.
Ross Mauri is absolutely spot on with these statements and again, perfectly positioned are systems such as the IBM LinuxOne brand that can house, execute and manage 100's of thousands of transactions a second! This is why I personally feel that IBM has chosen a very sound combination of infrastructure and services with Blockchain, which is extremely transactional and compute hungrily.
Everledger at IBM Edge
Another highlight of the IBM Edge conference was the second-day keynote featuring Leanne Kemp, CEO of Everledger.
IBM client Everledger is an example of innovation with blockchain. Everledger is , a great start-up that launched last year with a fantastic idea of creating a digital DNA footprint for the diamond market, using the Blockchain and their own way of capturing the Provenance of each diamond by creating a digital fingerprint (location, authenticity, history) that revolutionizes the insurance market for diamonds!
At IBM Edge, Everledger announced a blockchain platform to digitally certify Kimberley Process export diamonds. The technology fights against insider threats, protects data, and secures entry points and integrity of the network through unique and secure features (underpinned by IBM LinuxONE), in order to meet strict security requirements of the diamond industry
[easy-tweet tweet="The technology fights against insider threats, protects data, and secures entry points" hashtags="tech, cloud, IBM"]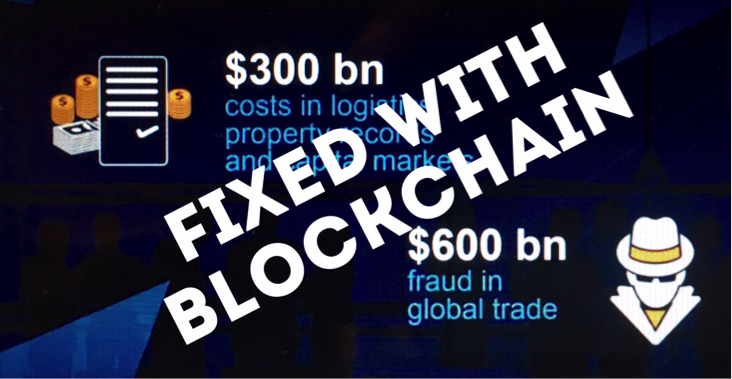 At IBM Edge, IBM demonstrated that they are visionaries in blockchain technology that is architected for the future. Not only by future proofing technology use cases but also finding practical use cases for industries.
Well done IBM Edge, again, for making my time very educational, enjoyable (well it was in Vegas) and also very productive. It seems that IBM is all in with Cloud as the way forward and all of their product sets fit nicely into a solid Cloud vision.
IBMGO – replay link for the keynotes and interviews – https://ibmgo.com/Edge2016