At Compare the Cloud we frequently come across some of the best (and worst) rising tech innovations in the industry, and recently there has been a splurge in very disruptive tech fall into our laps. However, I want to discuss the question of Legacy, how do you transform/conform to achieve a digital transformation?
Let's see the challenges that face the legacy tech/systems/apps that you have just migrated around, keeping that elephant in the room. Why? Because it was too much effort to change, not possible to change due to application restrictions or you have always conducted a certain service that way, so why change it?
[easy-tweet tweet="The multitude of green screens are rife" hashtags="Cloud "]
I can relate to this in a big way and I think anyone reading this article that has worked in a banking/finance environment would agree – the multitude of green screens are rife. They are seen as a necessary evil to run that client services app, that customer data record system or even just accessing alternate technology that required an emulator. Sadly the green screen floors were always thought of as low tech, data entry oddities that were old school with importance attached. Does the below look familiar?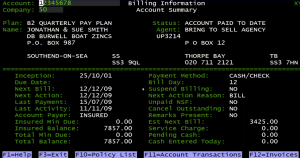 Of course, it looks familiar, and this still has its use today. But, how do you transform your company, service, technology and staff to the digital age with these legacy applications? Yes you can have an emulator, yes you can access this remotely and work around the elephant in the room but why would you if you didn't have to?
Your staff would be happier if they could use a modern interface that they are not embarrassed to be associated with. You as a divisional head can have a roadmap to a digital transformation that does more than performing a makeover. How about turning those legacy applications to be web based, mobile across smart devices, faster than traditional applications in us and catering for systems such as – Mainframes (all), IBM i, Unix, Linux, VMS and others?
Flynet is the missing link that enables legacy applications to be digitally transformed, that will simply save you so much time to achieve this goal. I caught up with Flynet recently, and I have blown away with their products and how they just love legacy environments. No, it's not a terminal emulator (although it can be too) as I thought when first discussing Flynet.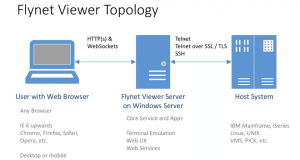 Flynet takes your green screen, codifies it, digitalises it, makes it mobile and heterogeneous to your modern way of thinking, period! Mainframes have had a makeover to adapt to Linux and other current and future operating systems so why shouldn't the apps run more efficiently and link into your technical roadmap for digital transformation too?
[easy-tweet tweet="You know you can rely on the tech behind the scenes" hashtags="Cloud, Tech "]
As I said before, it's not just a modern front end makeover, though, it's a massive improvement to the way you use legacy applications. It's fast and basically turns your legacy into a very sophisticated web application that is right on the pulse for the digital transformation that you WILL need to go through. Let's face it nobody really cares what your legacy application runs on (sorry), but the consumers/users of the application do. You know you can rely on the tech behind the scenes to be secure and do what they are designed to do but nobody wants to limit the access to an emulator that is stuck on the end of world-class technology infrastructure. This opens the door to run even more on your current infrastructure that you never thought possible by integrating applications with the "green screen" very resilient backend technology. To be honest, I am impressed with Flynet and their developments in this arena as it moves the elephant in the room puts it on a diet and workout regime and comes out a lean digital machine.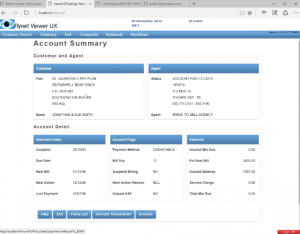 If you have green screens, struggling with legacy migrations and want to change with the times – just take a look at what Flynet offer as I did and prepare to be surprised.