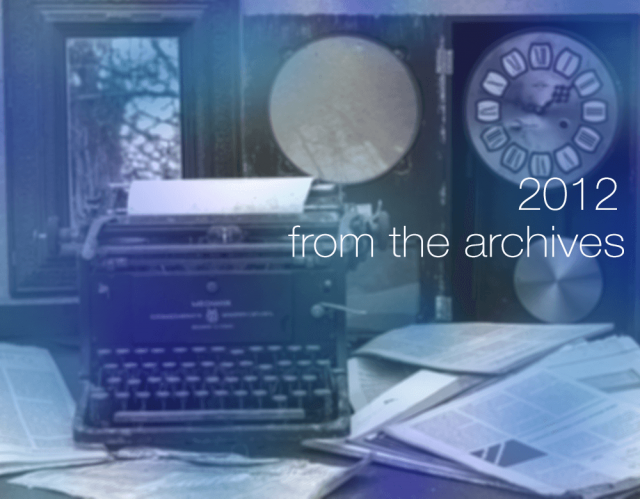 By Daniel Steeves
"Sales and marketing fail when they either are selling or marketing the wrong thing, or the right thing in the wrong way" ~ me, 2012
In planning a recent holiday, we started (as I assume most do) with choosing a destination, based on either the mission (see, visit, do something…) or the vision (city; dive; rest…) for the holiday. We narrowed things down by applying our requirements criteria including travel time and budget, adjusting and extending our view as we made a selection.
We decided on a city break in Istanbul and during this initial 'discovery' process we further refined our requirements and determined, broadly, that transport and desired level of accommodation would be both available and affordable and that the city offered us what we were seeking for this holiday. Based on target location, timeframes and convenience, flying was pretty much the only valid option.
While we always seek as painless a travel experience as possible, we typically allocate more budget to accommodations and activities than we do to travel: this typically makes Business Class or better a price barrier but we never adjust our basic requirements: local airports, competitive pricing and a track record that leads us to expect a safe runway landing rather than a splash down or a ride into the side of a mountain. Those needs met, we selected and booked the flight.
Then came the Fun, part 1: deciding where to stay and from there planning what we might get up to on arrival. Following pretty much the same requirements-defined approach as above, at a more granular level, we finalised our criteria relevant to the type of break we wanted (our mission and vision) ranging from the neighbourhood of our hotel to its proximity to sights and transport.
This was followed by the Fun, part 2: going there and doing it. Loosely illustrated our time allocation – and preferably also that of our budget (which is, sadly, usually a larger chunk by far than desired), looks a little bit like:
The same type of breakdown applies, loosely, to selling technology-based business solutions (although not always the same ratios): technology is meant to enable something, to solve something, to deliver something or to earn something, not just to be really cool tech with a better name and fancier tools.
Awareness is Good, Hype is Bad
Now, as written in Part 1 of this reality check, Beware the Cloud-ists! I'd like to say that I like cloud and have done since well before it was called cloud. And that today, with the processing power, capacity and bandwidth to deliver to the promise, not to mention the sliding commercial models and minimal-to-nil start-up barriers in terms of costs or time delays, we are now enabled to use smart, utility delivered, commodity computing in a way that it can really make a difference.
This is very promising in the view of both the business and technology camps: reduced risk, reduced cost, increased agility and overall reduced barriers across what has become a much-simplified business to consumer to business loop (particularly but not exclusively to the online or otherwise computing-centric space).
Cloud Computing has struck a chord with and captured the imagination of the public, businesses and Government in a way that other attempts at delivering utility model computing, ranging from On Demand to first generation SaaS and other such incarnations never did. Everywhere you look are managers, experts, analysts and "observers of a journalistic nature" writing, blogging and tweeting about it: a myriad of real-world experts (some of whom know about that of which they speak, others clearly who do not!) generating countless books, articles and whitepapers.
Cloud is Merely the Delivery Vehicle
… and cloud is also a great foot in the door. Controlled and applied realistically, the hype around cloud is raising awareness and increasing uptake and I suggest using the opportunity created by this hype. Leverage the interest and awareness to start new, broader conversations based on the business goals of your customer (and their customers) rather than the delivery needs of their IT department or your own short-term sales targets… I suggest that you stop selling cloud and instead start to sell and deliver the things that cloud will enable: their imaginations have been captured by all of those pundits and it is time to take advantage of that: the right way!
Raising interest in and creating an understanding of the cloud and its (actual) benefits is clearly good all round: assuming that you want to move from selling products and services to selling business solutions and long-term relationships, cloud is the perfect vehicle to enable that move (more a transformation, by the way, than a move).
Selling business solutions and long-term relationships indicates that it is the competitive edge (in terms of: agility; cost of sales and delivery; sustainability of service) delivered via these new commercial models and methods wrapped around enhanced, improved and new technologies that are cloud, rather than the tech itself. Sell the holiday: the hotel and the activities are that which captures the imagination, not the flight.
And that answer remains the same even if your customer is re-selling your cloud-based models and methods to their end-users: the only difference is that you need to work with them to move them to also think and sell the same way.
Cloud is about enabling innovation, driving speed, delivering business agility and reducing risks: You need a different conversation and a different proposition… my suggestion is to stop selling cloud, start having those different conversations and see where they take you: let cloud sell itself based on what it can do rather than what it is.
As the saying goes, every cloud has a silver-lining: your competitors who are selling that silver lining may make short term income but I would suggest that the real place to go mining would be in the doors opened and relationships built by the conversations around how this cloud stuff can transform their businesses, reduce their costs and get them to their goals better, stronger, quicker, cheaper. That is where lies the mother lode.
Oh… and don't forget to beware of the Cloud-ists!