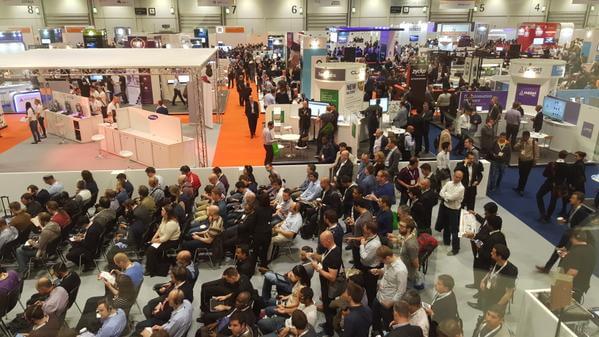 Exclusive seminar programme focussing on the continuous transformation of IT drives 9% attendee increase
IP EXPO Europe, which ran from 7th-8th October at ExCeL London, has yet again confirmed its place as Europe's number one IT event, with a record number of attendees for its tenth year. The event attracted 14,592 visitors, a 9% increase on 2014, due in part to a brand new format, encompassing six events under one roof for the first time ever.  
The six sub-events, including the newly-launched DevOps Europe, Data Analytics Europe and Unified Communications Europe, examined the vast and continuous transformation of the technology industry, cementing IP EXPO Europe's position as the go-to event to explore issues at the heart of the IT industry. 
Speakers included Jimmy Wales, entrepreneur and founder of Wikipedia, who opened the keynote programme to a captivated audience of over 900, discussing a new era of data-driven change. The line-up also featured industry leaders such as Mark Russinovich, CTO at Microsoft Azure, Michelle Unger, VP of Worldwide Sales at IBM Watson, and Robert Epstein, Windows 10 launch lead at Microsoft, who presented a keynote on Windows 10 for the Enterprise.
This year's attendee figures show a dramatic increase from 2014, which saw a 6% increase on the previous year. With a quarter of attendees coming from the C-Suite, 40% of this year's attendees were particularly interested in security, highlighting the continued concerns around the ever-increasing threat of cyber warfare, and 80% are currently involved in implementing new cloud technologies for their business.
"This year's IP EXPO Europe covered a full spectrum of issues that technology leaders across Europe face on a daily basis. Following the success of this year's event, we're very excited about the launch of IP EXPO Nordic next year – in addition to the continued success of IP EXPO Manchester, launched this year," said Bradley Maule-ffinch, IP EXPO Europe's Director of Strategy.
Next year's IP EXPO Europe  will run from 5th-6th October at ExCeL London. It will address new areas including Open Source and also further examine the benefits of collaborative code and continuous delivery. Full details can be found at: http://www.ipexpoeurope.com.