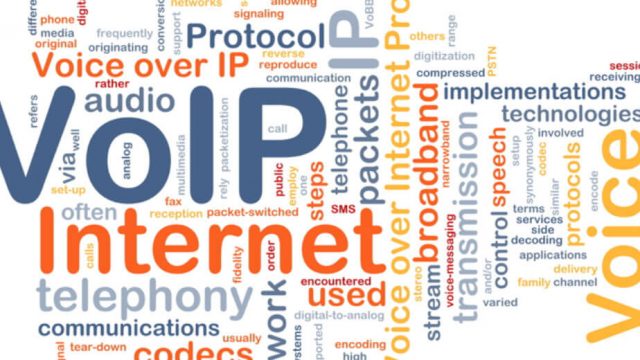 Cloud based VoIP solutions are increasingly being used by businesses of all sizes for their flexibility and pricing. Choosing a hosted VoIP solution makes sense in many ways over traditional landlines for business use. Cloud-based phone systems are increasingly popular among business owners with 5-10 users, although larger corporate clients (100+ users) are moving to cloud-based VoIP solutions as well.
[easy-tweet tweet="VoIP telephony, uses packet-switched telephony over the internet to route calls to devices" user="comparethecloud" usehashtags="no"]
The reasons are first and foremost cost and improved efficiency compared to a standard telephone system. One of the reasons for its increased popularity is also because of the increase in broadband speeds in cities. Business owners now have access to faster and cheaper internet speeds with higher bandwidths, or sometimes if it's a new office they can already be pretty well equipped for hosted VoIP.
Hosted VoIP Overview
VoIP (voice over IP) telephony, uses packet-switched telephony over the internet to route calls to devices as opposed to circuit-switched systems used in traditional telephony. Although the technology is not particularly new, it is now ubiquitous, reliable and affordable enough to make it a serious contender for business phone systems.
Gone are the days whereby you would experience dropped or unintelligible calls, with many businesses now having fast internet access, and improvements to VoIP systems, it makes sense that many business owners are opting for phone systems such as these.
Low-Cost Total Cost of Ownership (TCO) & Fast Deployment
With a cloud-hosted solution, the cost savings can be immediately apparent: there are no copper wires to be installed in the business owners building, no expensive hardware such as a PBX is needed as the hosting provider runs the hardware remotely at a data centre, the phone system can easily be upgraded by way of new software updates, and features such as call routing, Caller ID, Voicemail To Email etc often come with Hosted VoIP solutions, redundancy options are also available in case you lose internet access. Cost reduction is further enhanced by not having to employ staff to maintain an on-premise system. Managing servers and PBX systems can be prohibitively expensive.
Further cost reduction is possible as the service is billed at a low monthly rate. It is important to check what exact features come with the VoIP solution you are looking to deploy. Some service providers deliver their phone systems with additional features such as IVR, remote call logging, contact saving, messaging systems and many more features. Deployment is as fast as setting up IP-based handsets, and it can scale as business needs expand. If bandwidth issues occur a new line can be installed to cope with more phone users.
Interestingly data provided by PMC telecom shows
Over 90% of all Hosted VoIP customers are from major UK Cities.
Over 50% of these are from Manchester or London.
Other reasons businesses are making the move to Hosted VoIP
The features that come as standard with Hosted VoIP are becoming an "out of the box" solution. For example, if you have to consider your business needs and costings such as:
DDI
Call Recording
Call Forwarding/Diverting on a user level
Call Queuing
On Hold Music
These all come as standard. Even with the on hold music – there is a large variety of stock audio to use at no extra charge. In addition call recording is super easy, as all calls are recorded into your cloud. and these are accessible via the online portal which you will use to manage your Hosted VoIP system. Simply, it just saves time, and is cost efficient.
A big advantage with businesses with multiple locations – calls are entirely free office to office. This is the case even if your other office is on the other side of the world. Some businesses use just one VoIP phone or a Skype to do this, but now you can integrate this, it makes a lot more sense.
Reduced Environmental Footprint
Environmentally conscious business owners can also reduce their carbon footprint by moving to a VoIP solution. Billing is generally managed via your online portal, so no paper bills. If you have staff who work from home, they can also be connected to the internet through cost effective business broadband solutions, which also comes with a separate phone line; any charges encountered will appear on the main bill. Because server costs are encountered by PMC you also are reducing your total power consumption – all data is stored remotely, thus reducing your net carbon footprint.
PMC Telecom

PMC Telecom is a British based cloud hosted VoIP provider located in Manchester that provides old style systems, as well as the new Hosted VoIP.

"Our Business is based on Telecoms, if we don't move with the times, we won't survive. We have recently started offering Hosted VoIP, and we are surprised at the reaction. Many businesses are now taking the plunge with hosted VoIP, but most have no idea what it is.

If a customer wants a very expensive phone system, we let them know about hosted VoIP, and most either take it, or do not trust making calls via an internet line. But who can blame them, you try and use hosted VoIP on a shared line, or look at earlier adopters of Hosted VoIP and its been a disaster. If your infrastructure isn't there, it isn't going to work.

Interestingly our customer base is expanding more rapidly in Manchester and in London. This could be down to population density however there is strong evidence to suggest that two of our major cities are becoming early adopters of this technology. Very likely due to the fact it makes our job a lot easier when a company already has the infrastructure in place.

A problem with hosted VoIP however is that a lot of offices are on industrial parks. These are the last place for BT Openreach to install super fast broadband – and if your internet isn't good enough, hosted VoIP simple isn't an option, unless you install an additional line. This is however still really cost effective, and there is evidence to suggest this may start to be the "go to" solution for phone systems"