The evolution of 5G networks, cloud computing and automated technologies is picking up pace today as Internet of Things (IoT) adoption becomes more widespread across UK businesses. Bridging the gap between the real world and the digital space, IoT is well set to form intelligent data connections, leading to improved customer experiences, streamlined processes, and increased operational efficiencies.
In line with this, a recent report by Technavio found that the IoT market in UK is expected to grow by US$21.81 bn from 2021 to 2026, accelerating at a CAGR of 11.80%. The market is also anticipated to post a year-over-year growth rate of 10.86% in 2022.
Many sectors are driving this market growth: from retail to healthcare to industrial manufacturing, utilities and, of course, connected vehicles. The advent of the new 5G wireless standard is acting as a catalyst for IoT. It also offers the ability to handle extremely high volumes of data messages with minimal delay, allowing applications and communications running on 5G to connect and share data in almost real time.
What's driving IoT
IoT offers a raft of benefits to businesses. It supports and enables machine-to-machine connectivity, allowing companies to generate and collect data to drive operational efficiency and make more informed decisions about future business strategy, for example.
If big data collection is ultimately to be a success, organisations need to develop their core strategy and their approach to interrogating the data in order to generate the insights and information that they need. They must ensure that the approach will deliver real value for the company itself, whether that is around reducing outages on the production, cutting costs from poor logistics or reducing health and safety incidents on the shop floor. And they also require buy-in from the very top of the organisation to ensure the approach has committed backing and can be driven through consistently.
That said, there is great potential for organisations to start using IoT to drive business benefits. By sending messages to consumer devices, for example, businesses can start communicating more effectively with their customers, access customer feedback and use that to improve both the product and the ongoing service they provide. At the same time, IoT can start to build connected processes that enables it to accelerate its supply chain workflow and streamline key aspects of its operations: from ordering to production.
Migrating to the cloud is key
While businesses continue accelerating their digital transformation strategies and jumping on the IoT train, however, a note of caution is required. For the projected growth we see in market studies today to be realised, legacy IT infrastructures will need to be modernised and systems migrated to the cloud to power the variety of IoT applications and to respond to the explosive growth in connected devices. And with so many connected systems to manage, organisations will also need to ensure that all this is done securely, reducing the amount of security holes in the system and eradicating, or at least limiting, risk.
Cloud-based computing is, of course, becoming ever more popular generally. A growing number of organisations are looking to move away from the traditional scenario, where servers were located on-premises. They want to outsource the running of systems, as well as ensuring they can achieve 100% uptime on their services. And many organisations conclude that outsourcing into the cloud offers them the best way of doing this.
In line with this, many of the new services being developed alongside IoT are today being hosted in the cloud, especially large public clouds like Amazon Web Services, Google Cloud Platform and Microsoft Azure.
Beyond cloud
As we have seen, cloud computing is often fundamental to the success of IoT strategies, but the most powerful IoT applications also rely on high-quality connectivity. They need the right infrastructural foundations in place to ingest the enormous volumes of real-time data that IoT requires. They also need enough bandwidth to bring that big data in for analysis, utilising it for more efficient decision-making capabilities.
IoT implementation is a complex process that currently faces obstacles of systems which need modernising, lack scalability and flexibility, and shortages in competence to fully engage the business with IoT technology. Access to highly-connected ecosystems, available with the right data centre partner, is vital to get business data from one hub to another and ultimately on to its destination 24×7 and in a secure manner.
Effective IoT, and the resultant big data being delivered, require the shortest possible distance between sensors, data analytics applications, and the end-users of the processed data. Colocation service providers can effectively serve IoT framework needs by delivering an abundance of choice including major cloud providers and broad peering options, among others.
IoT data processing is increasingly being pushed out to the network edge to get as close as possible to the source sensors and end-users of the resulting data analytics. Today's interconnected data centre colocation providers can provide the best means for filling the gap in IoT's edge computing landscape, while offering a cost-effective approach for managing, storing, and organising big data.
Beyond all that, they can deliver the technology solution, of course, but just as important they can hold the customer's hand when they are undertaking the transformation, and make sure they get to where they want to be. These providers and the technology solutions they facilitate are therefore key to ensuring the ongoing growth and success of IoT but more specifically making sure that businesses can use it to drive benefits for themselves: from enhanced customer engagement to improved operational efficiencies and sharper competitive edge.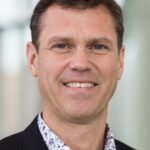 Bo Ribbing joined KDDI in 2020 to grow the IoT business in the EMEA region. KDDI is the provider
of global connectivity for Toyota, Mazda and other OEMs. Through the acquisition of Station Digital
Media, KDDI also has capabilities in improving user experience for OEMs and their customers.
Previous to this position, Ribbing was driving the creation and growth of Ericsson's IoT Accelerator
offering, which is today available from more than 30 mobile network operator partners around the
world.
Ribbing has a broad international experience, particularly from Latin America and Asia Pacific. He
has held several management positions at Ericsson's head offices in Sweden, as well as abroad.
Ribbing has an M.Sc. in Applied Physics from the University of Linkoping in Sweden.