For many IT managers, application deployment remains a central task within the day-to-day management of enterprise IT. As businesses use an increasingly wide variety of different end devices, IT departments must now ensure that their company's approved application portfolio functions across everything from tablets to desktops, laptops and smartphones.
This issue is further complicated by the growing demand for employees to bring and use their own consumer devices within the workplace. Today, IT managers must attempt to control deployments and software updates across a whole host of different operating systems, platforms and device types – many of which they have no real control over.
Faced with this complex landscape, it's easy to understand why many IT managers are struggling to secure their systems and ensure that employees are working in a productive manner.
For every unsanctioned or out of date application on an organisation's network, IT departments are faced with yet another potential security vulnerability. At the same time, employees are also faced with a disjointed experience with incompatible application versions leading to frustrated staff, reduced productivity and, ultimately, a less profitable workforce.
While it's understandable that IT managers can get bogged down in the issue of application updates, there is a much more pressing concern starting to emerge behind the scenes – that of on-going operating system updates.
Staying on top of your OS
With 83% of today's enterprises running Microsoft Windows as their primary operating systems, many are now looking to transition to Windows 10. While Windows 10 offers numerous benefits for enterprise users, many have been left concerned by the platform's new approach to operating system updates. Described by Microsoft as the "last ever" version of Windows, Windows 10 will no longer require businesses to make a hefty "point-0" migration to new OS versions. Instead, major platform updates will be introduced on a rolling basis via a more fluid Windows as a Service model.
[clickToTweet tweet="major platform updates will be introduced on a rolling basis via a more fluid Windows as a Service model. " quote="major platform updates will be introduced on a rolling basis via a more fluid Windows as a Service model." theme="style3″]
While IT managers may be pleased by the idea that they will never have to undertake another cross-organisation OS migration (similar to that seen at the end of Windows XP), the reality is that constantly updating an organisation's IT systems comes with its own challenges.
In the past, IT teams have had years to test an operating system upgrade before rolling it out across thousands of individual PCs. Now, however, businesses will have less than a matter of months to manage this change, with OS versions now coming on a semi-annual basis. If IT departments fail to install these updates across every PC, they will be left with a network of disjointed platforms, capabilities and user experiences. Even more worryingly, their networks could be left with hundreds or even thousands of potential security vulnerabilities.
The damage possible through these unseen OS vulnerabilities was most recently highlighted by the WannaCry cyberattack on the National Health Service. Having prioritised spending on other areas of the health service, the NHS was left with a minefield of half-updated machines, with many still running the 16-year-old operating system Windows XP (which Microsoft stopped formally supporting in April 2014). When these vulnerabilities were exploited by the WannaCry ransomware, the NHS found itself crawling with infected machines, impacting a total of 50 NHS Trusts and costing the company £180,000 in emergency measures.
Given that this issue was uncovered at a time when businesses had years to prepare their OS upgrade strategies, imagine how common these problems will become once organisations are forced to update their systems every few months.
With this in mind, what can businesses be doing now to prepare themselves for mass-updates and the move to Windows as a Service?
Sharing is caring: How P2P is solving Windows as a Service
With the "death" of Windows 7 now set for January 2020, all businesses will be expected to move to the Windows as a Service model prior to this date. Faced with this deadline, enterprise IT teams must start to think of new and innovative ways to manage their OS updates on an increasingly large and frequent scale. Not only does this represent more labour hours for IT teams, it can also place a significant strain on an organisation's network – particularly if that network's infrastructure is old or out-of-date.
With the "death" of Windows 7 now set for January 2020, all businesses will be expected to move to the Windows as a Service model prior to this date.
To overcome this issue, many businesses are turning to the use of peer-to-peer (P2P) technologies such as SD ECDNs (Software-defined enterprise content delivery networks). These virtual networks allow businesses to share large files at high speeds, regardless of whether they are still relying on legacy network infrastructures. By distributing an update to multiple machines (or peers) and then allowing those machines to share the updates amongst themselves, SD ECDNs exponentially decrease the bandwidth load on an organisation's network. The greater the number of peers across a complex distributed enterprise, the more efficient content delivery becomes compared to legacy hardware-based WAN optimisation solutions.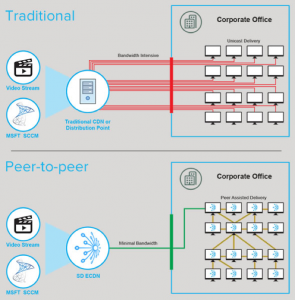 While SD ECDNs are already being used by companies to distribute and stream high-quality video content en mass, a growing number of businesses are now beginning to examine how these same networks could be used to solve the issue of constant Windows-as-a-Service updates. By using peer-to-peer sharing to update all of a company's devices at once, organisations such as the NHS are ensuring that they are always up-to-date, improving productivity and minimising risk.
Since discovering the root cause of WannaCry, the NHS has started to explore update delivery via Kollective, a Microsoft approved SD-ECDN. By adopting this peer-to-peer technology, the NHS will not only be able to mitigate similar cyber attacks but has also future-proofed its business for the move to Windows 10.
This is the real lesson for IT teams to learn in 2018, that their role must go beyond simply managing application deployments and security threats as and when they arrive. Instead, they must focus on building an infrastructure upon which all future activity is fast, efficient and secure.