If your company needs to maintain equipment, manage inventory, deal with stock levels and optimize its supply chain, a CMMS would be a natural fit. With numerous benefits that a CMMS can provide, it is no wonder that more and more organizations are looking to implement it.
One of the first questions those businesses are faced is related to hosting. They need to decide between an On-premise approach and an online-based system, hosted on the cloud.
Hosting data on-premise means your business must maintain its own hardware and software to run the software and store your data. Your business will need its own IT staff to manage all the back-end work on a dedicated server in the office building.
Hosting data in the cloud means you rely on the vendor to run the software and host your data as an additional service. This means much less IT work on your end and the data is accessible through the internet for any user at any time.
Less burden on IT
Cloud-based CMMS is a good option for startups and small companies without a lot of capital, IT resources, or technical expertise.
Without the headache of dealing with installations, server maintenance, unexpected breakdowns and so on, the business can focus on dealing with its core business.
Without the headache of dealing with installations, server maintenance, unexpected breakdowns and so on, the business can focus on dealing with its core business. This means that there's no need for a large IT team to handle the software and any new requirements can be dealt with by the CMMS vendor.
It is also easy to scale up or scale down the system, as Cloud providers like Amazon allow companies to rapidly expand their system cores and storage for a fixed fee. Rather than waiting weeks for a new machine as on-premise systems would have to, the cloud-based CMMS can be scaled up in hours.
Software updates
Typically, any ERP or CMMS undergoes constant improvements and changes over time to fix bugs, incorporate new features and ensure security. While on-premise CMMS needs a software team to maintain and apply upgrades to the software, typically an online CMMS is maintained by the vendor and is automatically updated as part of the license fees.
Updates to an on-premise CMMS is a lot more difficult.  Software updates and patches have to be tested by the IT teams to ensure there is no conflict with existing systems or customizations.  This causes additional delays causing on-premise CMMS customers to have to live with bugs or security issues for months or even years at a time.
For cloud-based CMMS systems, these updates are handled by the CMMS vendor and can be implemented immediately behind the scenes with no negative impact on the CMMS user.  This ensures that all the users of the online system have access to the latest version while not having to bother with the intricacies of upgrade planning.
Dealing with Downtime
While every business wants to ensure 100% uptime and availability of their software to keep operations running smoothly, it's almost inevitable that there will be some downtime. Web-based CMMS systems are typically hosted on multiple servers throughout the world to increase reliability and availability.
The cloud hosts offer performance guarantees to their clients to ensure that service disruptions will be minimal and as long as businesses have internet access, their operations will run undisturbed.
Rather than having your own IT department worry about downtime issues, with a cloud-hosted CMMS you can leave the responsibility to the vendor. The network, servers, and application are monitored 24/7, 365 days a year often with an availability guarantee of 99.999% or 5 minutes of downtime per year.
Security Concerns
When comparing the two options, remember that the features of on-premise hosting are more suited to enterprises that have regulatory requirements that force data to be kept internal.
Web-based CMMS software can erroneously be perceived as less secure than on-premise solutions, but cloud-based systems are often better maintained, security patched faster and overall better managed due to the fact these servers are the CMMS vendors entire livelihood while the on-premise server is just another server to be managed.
Another trade-off for on-premise hosting is responsibility for the data.  Cloud CMMS vendors will automatically back up and store your data included in the license cost.  On-premise, software requires your own data plans and audits to ensure your data is safe.
Software Costs
Finally, costs should play a role in the decision of choosing one approach over another.
The capital investment on an on-premise software is higher, but if managed effectively by your IT staff can pay for itself over time. However, like all equipment, the value of the hardware depreciates and the servers eventually need to be replaced.  Additionally, software updates may need to be purchased and you should consider the cost of lost time due to the slow bug fixes or software updates inherent in on-premise software.
On the other hand, a subscription-based software service is a recurring cost.  You get a lot for this recurring cost, but that doesn't change the fact it is a recurring cost. According to the latest maintenance statistics, most facilities are willing to invest between 50$ and 100$ per user per month.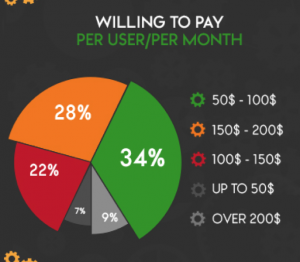 Conclusion
Both approaches are viable options for most companies, but more and more organizations are choosing the online based software or Software as a Service. Cloud-based software allows companies to rid themselves of distractions that would affect their ability to focus on daily operations and their core business resulting in a higher ROI.
[clickToTweet tweet="more and more organizations are choosing the online based software or Software as a Service #SaaS" quote="more and more organizations are choosing the online based software or Software as a Service #SaaS"]
An on-premise CMMS can be a heavy investment, but in certain situations, it can be a good fit.  If you already have a well-established IT staff, know the software fits your organization, plan to use it for at least 10 years, have regulations to keep data and IT services in-house and can deal with the headaches previously mentioned, an on-premise CMMS might be the way to go.