A recent patent application from Apple has revealed their plans to create an augmented reality windshield capable of using FaceTime. The prospective invention is known as a Heads-Up Display. Apple has detailed this product and described how it will enable "visual communication between an occupant of the vehicle and a remotely located user including an occupant of a separate vehicle."
According to the patent, the Heads-Up Display will also assist the driver by showing them the speed they are driving as well as the speed limit so that they can make appropriate adjustments and abide by the law. Another feature detailed in the patent is the 'Panicky Occupant Detection' whereby drivers' eye movements, posture and temperature are monitored by cameras and sensors to determine their anxiety levels. The windscreen would then adjust accordingly, changing the graphics displayed to suit the driver and their psychological state.
Apple's interest in vehicular technology is nothing new. Apple CarPlay is a system they released in 2014 which enables drivers and passengers to connect their phone via USB or Bluetooth to their vehicle and view their iPhone's content from the car's infotainment screen. CarPlay can be used to navigate you, make calls, play music, and even send text messages using voice commands directed at Siri. All of these tasks can be carried out without the driver removing their hands from the steering wheel.
The Heads-Up Display offers navigation, but far beyond that of a standard sat-nav. The windscreen will have an overlay of directions showing drivers exactly when/where to go instead of them having to look down at a phone or small sat-nav device. Apple did not invent the concept of AR windscreens, but the addition of FaceTime is undoubtedly unique. Jaguar, for instance, revealed in 2014 its "360-degree Virtual Urban Windscreen," for Land Rover. Director at Jaguar/Land Rover, Dr Wolfgang Epple, explained that their goal is "to reduce road accidents and enhance the urban driving experience. The Jaguar Land Rover research team is developing this technology to improve visibility and to give the driver with the right information at the right time. If we can keep the driver's eyes on the road ahead and present information in a non-distracting way, we can help drivers make better decisions in the most demanding and congested driving environments." Unlike the more versatile plans for Apple's windscreen, Jaguar's displayed mostly safety alerts and images such as virtual orange cones to warn the driver to areas to avoid.
Toyota has also released a car with a virtual display; the Toyota Camry has a 10-inch colour Heads-Up Display. Although Toyota's virtual windscreen display does not cover the windscreen (at on 10- inches in size), unlike Jaguar, who said their product would not be only the market for another ten years, Toyota's new feature is fully available as of this year. Although many people will be sceptical about increasing integration of technology in vehicles, seeing it as a potential distraction, Heads-Up Displays can be used to make the driver more aware of potential dangers. The intention behind the technology is to stop drivers from looking away from the road, not to distract them further.
Perhaps Apple's idea of incorporating FaceTime in their Heads-Up system could pose a concentration issue though. Of course, we do not know quite how this technology will work, but if the display were to be taken over by the face of a friend, it would no doubt be very distracting. It is very likely Apple will have taken this into account and are working towards a safer alternative.
As this information regarding Apple's Head-Up Display plans originates from a patent application, there is no certainty that the product will come to fruition. The application does indicate Apple's intentions to expand their technological horizons though, which is undeniably exciting. Considering their ability to dominate the mobile phone market with the iPhone, one could argue they could do the same with Heads-Up Displays. Due to the interest the company has already taken in vehicular technology through their production of CarPlay, it is no surprise that they have further automotive aspirations.
There's no guessing when this product will be available on the market, but knowing Apple and its incredibly loyal consumers, it will certainly attract many eager individuals. A vast community is already invested in the services Apple offers, such as FaceTime and Siri, and with the release of this new product, many will want to transfer those services to their cars – particularly if the Heads-Up Display aids their road safety.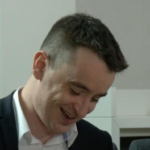 Andrew McLean is the Studio Director at Disruptive Live, a Compare the Cloud brand. He is an experienced leader in the technology industry, with a background in delivering innovative & engaging live events. Andrew has a wealth of experience in producing engaging content, from live shows and webinars to roundtables and panel discussions. He has a passion for helping businesses understand the latest trends and technologies, and how they can be applied to drive growth and innovation.