At the highest levels of sport, the finest margins can mean the difference between success and failure, driving teams to hunt for any competitive edge possible. Increasingly, data is providing this edge, giving coaches and players access to greater insights into match day performance.
[easy-tweet tweet="#data #analytics is giving coaches the edge in the #6nations #rugby says @bsquared90″]
In recent years, the 6 Nations rugby tournament has been a closely fought affair, with the previous three championships all decided on points difference. Given these fine margins, it's hardly surprising that professional rugby coaches have embraced data analytics in a big way in order to help get their team over the line.
Accenture, the Official Technology Partner of the RBS 6 Nations Rugby Championship, has access to tournament data going back to 2000 and uses its analytics platform to measure and compare a huge range of statistics. Teams of data scientists are able to measure this information and present in a way that makes it easy for coaches to evaluate the relative strengths and weaknesses of each individual player or team. The use of data in sports has helped to make both players and trainers more accountable and it is not just rugby that is getting on board. The NFL already utilises RFID sensors, and other examples of IoT sporting equipment are also being developed to collect information.
The use of data in sports has helped to make both players and trainers more accountable and it is not just rugby that is getting on board
However, former South Africa coach Nick Mallet knows from personal experience that data is not the be all and end all, particularly when there are human factors at work that are difficult to quantify.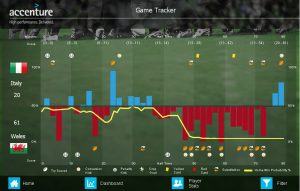 "There was a young, up and coming number eight called Bobby Skinstad and in every one of the match stats, he was better than Gary Teichmann. I picked him purely on stats, which was a hell of a bad mistake, because Teichmann was an outstanding leader," he said. "So I got rid of a captain to put in a talented player, but I lost ten per cent of everyone else's performance. And arguably I lost the World Cup in 1999 because of it."
[easy-tweet tweet="Sometimes even #bigdata #analytics can't predict a winner, the human aspects play a big part" user="bsquared90″]
Similarly, Ireland's Paul O'Connell was not, statistically speaking, in last year's 6 Nations team of the tournament. However, most viewers of the 6 Nations would agree that O'Connell's influence as a leader and talisman was vital for Ireland in retaining the championship in 2015.
This highlights the importance of not trusting data without its surrounding context. Whether you're based in a sporting environment or a business one, insights can only be gained by utilising the expertise of your data scientists in combination with individuals that are familiar with its contextual surroundings. In this case, Nick Mallet, has been able to advise the Accenture team about the types of rugby datasets that are most useful. For example, giving more penalties away than the opposition would generally be seen as a negative attribute, but without additional context, such as where on the field these penalties were given away, it is impossible to know if this metric played a key role in the outcome of a match. In isolation data is largely meaningless, but without data it is easy to dismiss opinions as lacking evidence, however when data is used to support your claims it can deliver a powerful advantage.
[easy-tweet tweet="Don't trust #data without its surrounding context says @bsquared90″ user="comparethecloud" hashtags="bigdata, analytics"]
Data is also being used to help rugby fans engage with the sport, by utilising another piece of cutting edge technology. Accenture has developed a proof-of-concept virtual reality experience to enable fans to immerse themselves within the game, exploring real-life venues before being presented with visualisations created from analysed game data. Creating clear and engaging visual representation of data is extremely important if the information is to be fully understood and Nick Millman, managing director, Big Data and Analytics Delivery Lead for Europe, Africa and Latin America at Accenture, believes that combining VR and big data could have broad applications for a wide range of industries.
combining VR and big data could have broad applications for a wide range of industries
"In this proof of concept, we used analytics and overlaid visualisations of the insights onto a virtual reality environment," he explained. "This application could provide some interesting potential uses for businesses; for example, we could create realistic training scenarios for hazardous work environments, test customer experience in a number of disparate locations, or explore and detect patterns in big data using 3D imagery."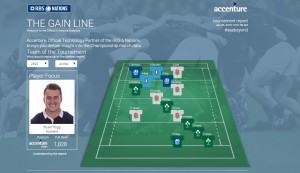 The amount of data available to sporting teams and corporate businesses is growing all the time. For organisations, the challenge is no longer how to acquire data, but how to use it effectively. With analytics platforms, interactive dashboards and virtual reality technology progressing at a rapid rate, there are also a multitude of options when it comes to presenting data. As we approach this year's 6 Nations tournament, sporting teams and businesses must both remember that data must be contextualised, analysed and acted upon correctly, if it is to help you win over your competitors.
the challenge is no longer how to acquire data, but how to use it effectively…