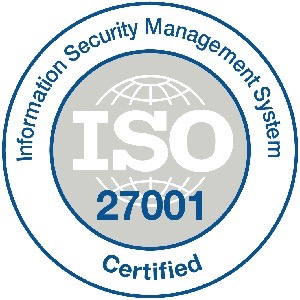 When it comes to data security, there is a wealth of standards that you need to meet in order to achieve compliance. This can be quite confusing as understanding ISO certification can be difficult, especially at face value. 
To make this simpler for you, here's a quick roundup of ISO 27001.
What is ISO 27001?
Put simply, ISO 27001 is a specification for an information security management system (ISMS).
It's a model of working for frameworks surrounding the legal, physical and technical controls that are used when processing an organisation's information risk management.
[easy-tweet tweet="ISO 27001 is a specification for an information security management system " hashtags="ISO27001″]
This standard provides complete guidance, covering everything from establishing and implementing the framework to the way in which it is operated and monitored. It even recommends ways to maintain and improve your systems.
ISO 27001 works using a top-down, risk-based approach.  It generates scope, taking into account the context of the organisation, planning and analysing processes, current performance and addresses the findings to show where improvements can be made.
It is important to note that ISO 27001 does not work independently
Using ISO 27001
It is important to note that ISO 27001 does not work independently. Instead it requires input by management to examine the security risks present and take the appropriate actions based on the threats and vulnerabilities present. Management will have to create and implement their own security controls or other forms of risk management, i.e. risk avoidance or risk transfer, to address the problems present.
The best practice is to adopt an overarching security management process that is ISO 27001 approved. This ensures that your security controls meet the required standards needed for your organisation on an ongoing basis.
However, even with a system such as this in place you will still need to take manual action from time to time to respond to threats and make improvements and changes to the system. Security controls are very important, therefore it is vital that you take the necessary time to ensure that your system runs as efficiently as possible.
Why gain certification?
There are many benefits to be had through certification compliance. One of the most obvious benefits is that this shows that your organisation takes their information security management seriously. Having an independent assessment adds extra weight to this.
Any organisation looking to work in an environment where secure file transfers are a priority will favour other organisations that have been certified ISO 27001 compliant. This states that the ISMS in place is compliant and there are measures being taken, on a regular basis, to ensure that it is as safe as possible.
[easy-tweet tweet="How fast can you get an ISO 27001 certification? John Lynch explains on @comparethecloud" via="no" usehashtags="no"]
How fast can I get ISO 27001 Certification?
Unfortunately, there is no set answer as the time it takes to gain certification depends very strongly on your existing circumstances. If you are using software and programmes that already have ISO 27001 certification, then you will only need to change the way in which your business operates to gain compliance – typically this will take between 5 and 9 months.
However, if there are no measures currently in place then this can take much longer. You will need to implement new programmes, carry out a risk assessment, address issues and change your day-to-day practice in order to meet the standards.
At this stage, it could take up to two years to achieve certification.
[quote_box_center]If you're looking to achieve this standard as quickly and efficiently as possible, you will need:
The right tools to monitor and evaluate your security

A strong plan to assess and score risk

To tailor the standard to your organisation's needs

Training across the board to work to ISO 27001 values and best practice

[/quote_box_center]
Don't be put off by the time and costs of this certification, this process does not need to be complicated. With the right guidance and proper tools you will find that achieving certification is well within your grasp.